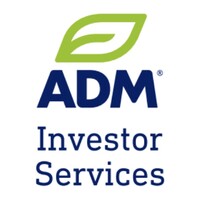 Overview
ADM Investor Services
MoreFollow
ADM Investor Services
Trading. Around the Globe, Around the Clock.
Financial Services
Chicago, IL
6,338 followers
1 company alum works hereFollow
Visit websiteMore
Overview
Join our LinkedIn Group – "ADMIS Futures & Options Daily"​ ADM Investor Services, Inc. ("ADMIS") has been a leader in the futures brokerage industry for more than 50 years. We work through a network of Introducing Brokers, non-clearing FCMs, branch offices, subsidiaries and sister companies across the United States and around the globe. ADMIS provides trade execution, expert market research and exceptional customer service in this 24/7 marketplace. We are headquartered in the historical Chicago Board of Trade Building in the heart of the financial district in downtown Chicago, Illinois. ADMIS began in the 1930's with the founding of Tabor Grain and Feed Company, an independently owned grain merchandising operation in Central Illinois. In 1956, the firm expanded to provide customers with investment banking and stock trading services. In 1966, the company changed its name to Tabor Commodities, became a clearing member of the Chicago Board of Trade, and began executing and clearing futures trades. In 1975, the Archer Daniels Midland Company of Decatur, Illinois acquired the firm and in 1986, we adopted the name we continue to use today.